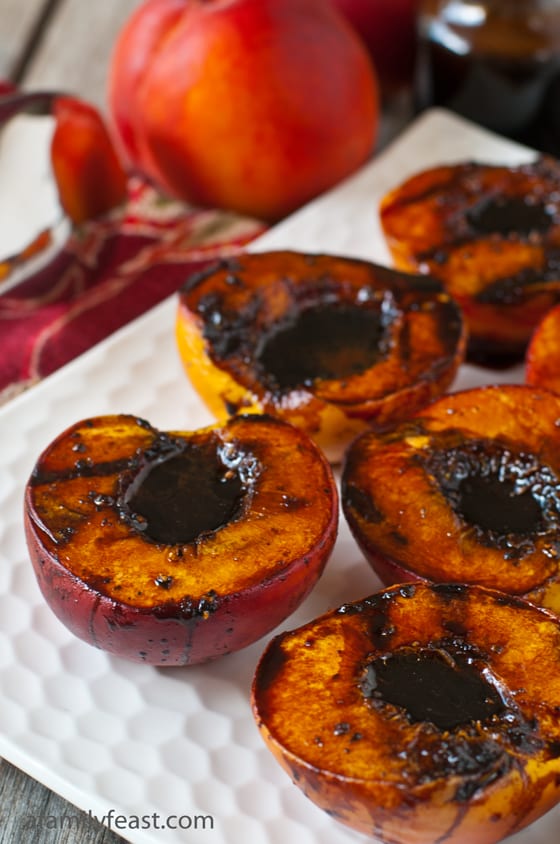 Grilled Balsamic Vinegar Peaches Recipe
January 17, 2018
Prep: 15 mins
Cook: 25 mins

15 mins

25 mins

40 mins

Yields: 3/4 Cups
Directions
In a small sauce pan, bring vinegar to a boil and reduce to a simmer. Simmer until reduced by half (15-20 minutes). Remove from heat and add molasses and black pepper.
Cut the peaches following the natural line that circles the fruit. Cut all the way down to the pit and just run the knife right around keeping the blade against the pit. Gently grab each half and twist in opposite directions. Then pop the stone out with a paring knife or a spoon.
Heat the grill to medium. Keep glaze warm so it does not harden up.
Brush each cut side with oil and place cut down on the grill. Grill for about 2 minutes and flip. Brush the cooked tops with the glaze and cook for about two more minutes. Remove to a platter and brush on more of the glaze.
Serve with extra glaze on the side.
NOTES: Using perfectly ripe peaches is important for this recipe. If your peaches are over-ripe, they will get mushy and too soft when grilling (although they will still taste delicious!). If your peaches are under-ripe, the stone will be very hard to remove. To ripen hard peaches, put them in a brown paper bag with a very ripe piece of fruit such as an apple or banana for day or two. The ripe fruit will give off gasses to help the peaches ripen faster. Our peaches were rock hard when we bought them, so we put an apple and a banana in the bag with them and left them to ripen for two days. (How long yours takes will depend on how much ripening is required.)
0 Reviews